I finally finished my vision board a couple of weeks ago with some pushing from my mastermind group.
For the uninitiated, a vision board is a poster with images of what you want to have, do and be in your life. The idea behind this is the same as putting your goals, tasks and intentions in a place where you see them everyday; you make it easier to attract these things into your life.
It was easier and more fun than I thought. I bought a cheap board from Ikea, a few magazines, printed some inspiring photos, got it done and now it's hanging in front of my desk.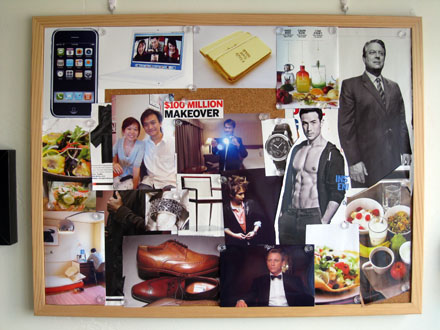 You'll see a Macbook, a symbolic photo of gold bars, very healthy salads, nice shoes, a buff physique, a beautiful room, an inspirational Al Gore, my lovely girlfriend, me at the center of it all…and yes, that iPhone.
How I Attracted an iPhone into My Life (Sort of)
If you're reading this from the US or Europe, the iPhone hasn't been officially launched in Asia yet. The official word from Apple is that it'll be here in 2008, which could be a long wait yet since we don't know exactly when in 2008. But I think it's absolutely gorgeous – how could anyone not want one?
The wild thing was that 2 nights after I put my board up with my iPhone picture on it, I bumped into someone on the train – using an iPhone! I started a chat with her and found out that she and a group of her friends have all been using the iPhone, she even gave me a shop to check out where they were selling iPhones.
I promptly went to the shop (it's on the 5th floor of Funan Shopping Mall) to have a look at the iPhone. Not only did I see it, I also got to hold it. And after that, as I was meeting a friend for dinner – I saw another iPhone at another shop we walked past!
It was iPhone mania!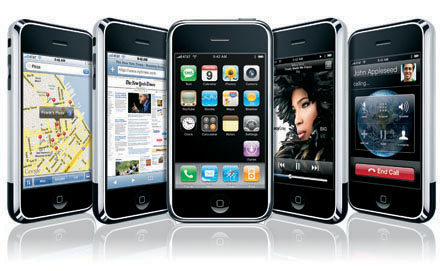 How to Create Your Own Vision Board
Now, maybe you don't want an iPhone – I wouldn't too right now because I'd rather wait for the official release, but it was a very interesting experience of the vision board for me.
To create your own vision board and attract your own 'iPhone' – something you want to have, do or be in your life – Christine Kane has written a great guide on how to make a vision board.
She also shares how she envisioned a house into her life in Vision Boards: A Quick Story.